work with me
Productivity Kick-Start Session
FOR HIGH-ACHIEVING SERVICE-BASED ENTREPRENEURS WHO WANT TO GET MORE DONE IN LESS TIME
ARE YOU READY TO FOCUS ON TASKS THAT MOVE YOUR BUSINESS FORWARD AND ACTUALLY GROW YOUR BANK ACCOUNT?
How do you feel when you sit down to start your workday?
Do you feel ready to slay your day?
Do you have a plan of what you have to do?
Or is it more like …
Holy crap … I have no idea where to start!
Why do I have to do all these boring tasks over and over again when I really should focus on the important tasks … aka getting new clients.
I have to cancel my Yoga class today – I just don't have time for that!
Or … the worst thing ever … there's no place for my coffee cup in that mess!
You started your online business because you wanted to live life on your own terms. To have the freedom to do what you love to do.
You are following all the other online entrepreneurs on social media, and they all make it look so easy. They all seem to have fun.
And you …
You are sitting at your desk every day, hustling and doing #allthethings with no end in sight. This is not what you had in mind when you started this adventure, right?
But I have good news for you
First and most important: Take a deep breath and relax, knowing that NO ONE has their shit together! Not you, not me, and not that online entrepreneur on social media. We just like to hide the shitty side of things.
BUT
There are ways to make your entrepreneurial life easier and fun:
• Automations that save you a whole lot of time and energy
• Efficient ways to handle projects and tasks
• Ways to get back control over your inbox
• Ways to reduce and manage your paperwork
Because you know what:
IF YOU DON'T HAVE THE RIGHT SYSTEMS AND TOOLS IN PLACE, YOU'LL WASTE YOUR PRECIOUS TIME, DOING THINGS YOU DON'T ENJOY DOING, AND YOU'LL LEAVE MONEY ON THE TABLE.
I know exactly how you feel
Hi! I'm Petra
When I decided to take the leap and start my own business, I had no idea where to start or what to do.
So I took online courses, group coaching programs, and all that jazz.
And I was impressed.
Whenever I signed up for something, I immediately got an email.
Of course, I knew that there wasn't someone sitting on a computer 24/7 and manually sends out an email whenever someone signs up – but how do I set up these magical lil helpers? How does this work?
I can schedule calls from websites with just a few clicks and without sending seven emails back and forth.
Again – HOW? I want this too!
I've always been a very organized person – that's just how I am. I love everything organization, productivity, and automation.
I ALWAYS clean up before I go to bed because I hate it when I get up in the morning, and everything is a mess.
Even if I'm in a hotel only for a few days, I unpack my suitcase and put everything away.
I pretty much live inside Asana.
That's why I was so impressed by all the tools out there that make the life of an entrepreneur so much easier.
And I want your life to be easier too.
That's what we want
But not only this
• I want you to spend your time on things that bring your business forward and not these nerve-racking back-office tasks.
• I want you to feel the ease of productive workdays so that you can have guilt-free days off.
• I want you to end your day with the damn good feeling that you got shit done!
• And I want that your efforts are reflecting in your bank account.
Carla Biesinger
Business & Instagram Coach
Carla set up an online scheduler for clients to book a call with her, which saves her an incredible amount of time. She also tweaked her weekly schedule and is now not only more productive but also has more time for fun and creative tasks.
If this sounds like something you need …
then I couldn't be more excited to invite you to book your
Productivity Kick-Start Session
A 60-MINUTE CALL WITH ME TO HELP YOU GET MORE DONE IN LESS TIME!
→ We will identify the areas in your business where you've room for improvement when it comes to being productive and
→ work out the next action steps you can take.
Are you ready to save your precious time and focus on money-making activities?
Prior to working with Petra, I struggled with getting organized with my time during the work day. I found myself doing a bunch of tasks scattered throughout the day which caused me to not be as productive as I could be. I would find myself constantly getting distracted and felt like I was frequently wasting time. This was very frustrating to me because in general I identify myself as a very efficient and productive person.
Now I feel so much better about how to structure my work day, week, and month overall. It's been really helpful to schedule in which days I plan to batch certain types of work so that I'm able to focus 100% on the given task at hand. I'm looking forward to getting ahead in my content creation instead of constantly feeling behind. Looking forward to implementing the tips Petra suggested!
Petra provided a lot of great tips to become more productive during the workday while also focussing on the specific questions I asked which I really appreciated.
Watching Petra's brain in action in her programs is a little bit of magic! She is incredibly organized, detail-oriented and has a quality of work that is rare among coaches and advisors. Her patience and guidance for those of us who take a little longer "getting it all together" is a huge blessing. Petra is definitely someone you want to have at your side as you grow and scale your service-based business!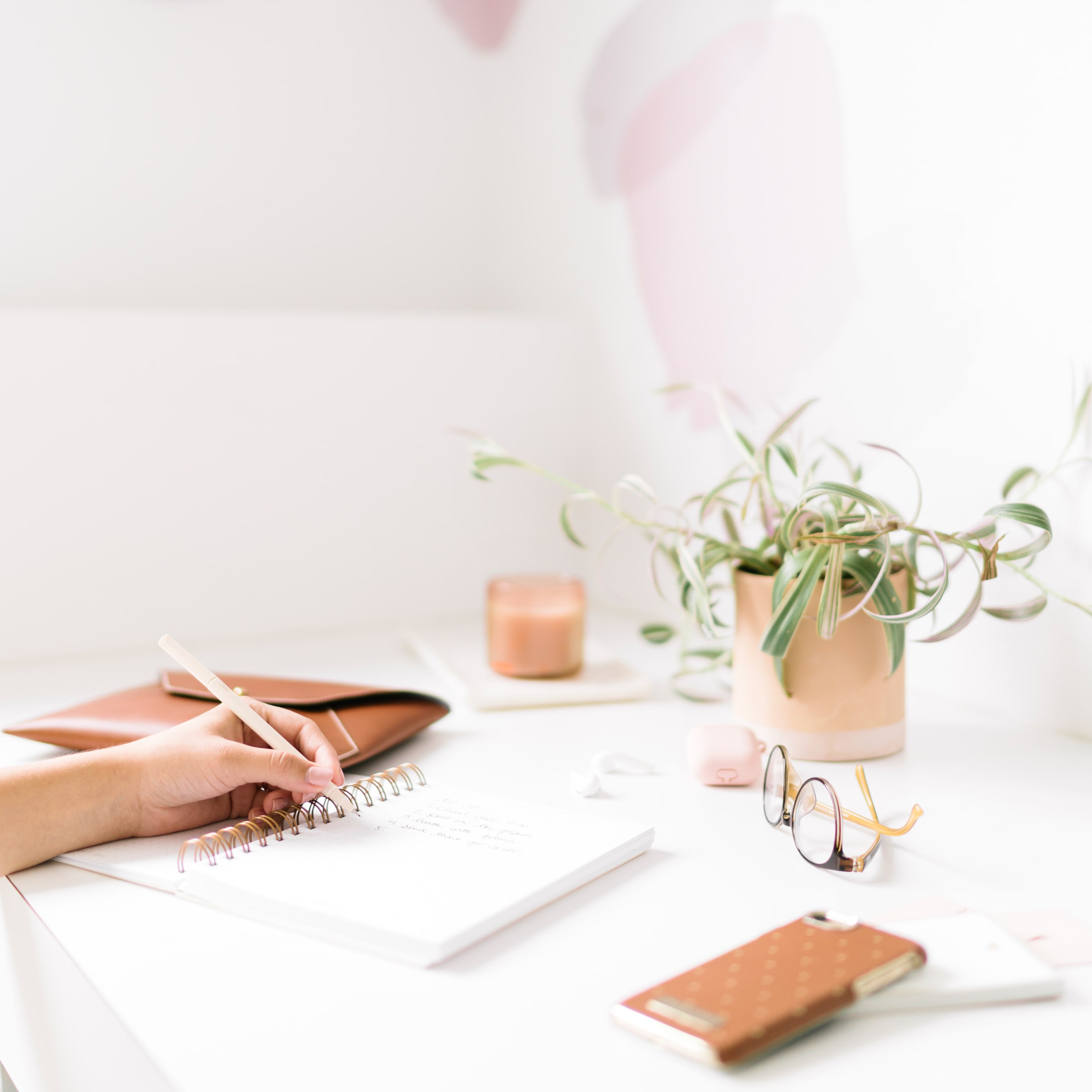 "

For every minute spent in organizing, an hour is earned.

"