---
If you have a business email address with your own domain, you probably know the pain: The email platform that comes with your website host is often not the most convenient to work with. You already have a Gmail account and would love to use this for your business emails too so that you don't have to switch between platforms all the time. Luckily there is a way to use your Gmail with your own domain for free!
Receive emails in Gmail
To receive the emails from your own domain in Gmail, log in to the control panel of your website. Go to the mail section and forward the emails to your Gmail account. This step will look different for every hosting service so please visit the help section of your hosting service if you need any guidance.
Send emails from Gmail
Now to the much more exciting part. You not only can receive your business emails in Gmail. You also can send emails from Gmail with your own domain.
Step 1: Login to your Gmail account
Step 2: Go to settings (the rack-wheel)
Step 3: Got to "Accounts and Import" / "Send mail as" / "Add another email address"
Step 4: Enter the information about your other email address
Step 5: Enter the SMTP server (your domain address), your username and password and click "Add Account"
Tip: You can find the right Port in the control panel of your website.
Step 6: You will receive an email with a confirmation link and code. Click on the link in this email or enter the code in the field and click "Verify".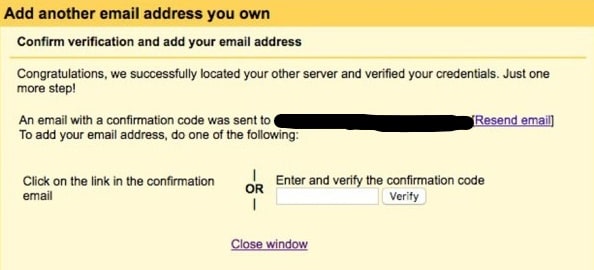 And that's it. Now you can send emails from Gmail with your own domain. When you open a new email, you can choose from which email address you want to send this email. How awesome it this?!
Download & Get Things Done
Free for you
GYST Day Guide
Get back control about what's going on in your business and life.
All-in-One Social Media Planner
Social Media Planning Sucks?!
5 Day Digital Declutter Challenge
Is digital clutter stopping you from being productive and getting things done?